Storing
Ervaar je problemen?
Vervelend: Wil je net die ene prachtige foto uploaden en juist dán heeft Instagram storing. Grr.. Of Instagram stories doet het niet, ook al zoiets.
Een storing op/met Instagram kan diverse oorzaken hebben en zich ook op allerlei manieren uiten.
Soms is de storing niet direct bij Instagram maar op de algemene servers van Facebook of Whatsapp waar Instagram onderdeel van is.
Zo kun je vaak wél gebruik maken van de app maar:
Werkt één of meerdere functies niet, bijvoorbeeld zoeken
Is het niet mogelijk om DMs te versturen of te lezen
Werken functies zoals liken en taggen niet
Kan je geen Instagram Stories checken of plaatsen
Als het bovenstaande zich voordoet weet je vrijwel zeker dat Instagram een storing heeft.
Maar er kunnen ook andere storing zijn waardoor het lijkt alsof er een storing is terwijl dit niet zo is. En die storingen kun je zelf oplossen!
Waarom is er een storing bij instagram 
Altijd lastig probeer je net dat ene leuke moment aan de wereld te tonen lukt het niet.
Hier zijn een paar voorbeelden waarom er storing bij Instagram kan zijn:
Je mobiel of Instagram is niet up-to-date
De verbinding met internet is slecht of werkt niet (bekijk ook wifi storing)
Er is een nieuwe update van bijvoorbeeld een filter die iedereen wil hebben
Misschien werkt een nieuwe update niet in het nieuwe algoritme wat eerder in 2019 is gelanceerd
Externe media die een DDOS aanval op de servers van Facebook uitvoeren
Het kan voorkomen dat het aantal gebruikers van Instagram hoger is dan gemiddeld bijvoorbeeld tijdens een uniek gebeurtenis in de media
Misschien zijn de server van Facebook of Whatsapp down (check Twitter)
Zelf een Instagram storing oplossen
Vaak lijkt het of er een storing is maar ligt de werkelijke oorzaak bij de internetverbinding die je gebruikt.
Gelukkig kun je dat zelf op meerdere manieren testen- en oplossen. Bekijk hier de tips om mijn internet storing te verhelpen.
Hier zijn een paar makkelijke manieren te controleren waarom Instagram niet werkt:
WiFi verbinding
Als je op een Wifi verbinding zit en Instagram laadt niet, probeer het dan even met je mobiele internet verbinding (4G). Werkt het nu wel? Dan is grote kans je WiFi verbinding de oorzaak is. Probeer deze even via de router of modem te resetten of de gehele router of modem te herstarten.
Gebruikte je jouw mobiele internetverbinding al?
Probeer deze te resetten via de volgende stappen:
Zet je telefoon voor 30 seconden op vliegtuigstand
Haal na 30 seconden je telefoon van vliegtuigstand af
Je telefoon zal opnieuw verbinden met het netwerk en grote kans je internetverbinding herstellen
Als dit de oorzaak was zal Instagram weer naar behoren functioneren!
Nog geen succes?
Zorg ervoor dat je altijd de nieuwste versie van Instagram gebruikt
Omdat Instagram anno 2019 in Nederland bijna uitsluitend een op smartphones gebaseerde service is, is het altijd een goed idee om te controleren of apps up-to-date zijn. Dit voordat je naar andere oorzaken voor de storingen gaat kijken.
(Maar het is de moeite waard om eerst te controleren of je telefoon contact maakt met een werkende internetverbinding.)
Voor Android-gebruikers:
Ga naar de Google Play Store
Klik vervolgens op het hamburgermenu in de linkerbovenhoek
Selecteer "Mijn Instagram & Games"
Vervolgens kom je bij het menu "updates".
Er verschijnt een lijst met verschillende apps waarvoor nieuwe versies beschikbaar zijn
Als je de Instagram app tussen de lijst ziet staat, klik dan op de knop "Update/Bijwerken" aan de rechterkant.
Voor Iphone-gebruikers, apple-gebruikers:
Iphone en apple-gebruikers kunnen de App store openen
In het tabblad updates onderaan de pagina van je account kan worden gezocht naar Instagram
Als je in de lijst de app Instagram tegen komt kan je op update/bijwerken klikken naast het Instagram icoontje.
Na het downloaden van eventuele updates en het doen van de installatie kan je de Instagram app herstarten. Hopelijk is dan de storing of probleem verholpen
Check ook eens of er bij Whatsapp of Facebook Nederland storingsmeldingen zijn. Zij werken en zijn namelijk anno 2019 van het zelfde bedrijf als Instagram.
Mocht dit zo zijn check dan de Facebook of Whatsapp storingspagina op deze site.
Check de Instagram Help site
Als jouw app up-to-date is maar nog steeds problemen ondervindt is de volgende stap te controleren of er storing is bij Instagram zelf. De meest eenvoudigste manier om dit te doen is door de Help-pagina van de Instagram website te gaan. Hier vind je verschillende opties die beschikbaar zijn in het paneel aan de linkerkant van de pagina.
Degene die je wilt selecteren, is Bekende problemen. Dit beschrijft, zoals de naam al doet vermoeden, Storing die Instagram mogelijk tegenkomt.
Deze pagina is niet helemaal een storing site. Je kunt de genoemde problemen vinden om te zien of deze overeenkomen met jouw huidige situatie of problemen met je Instagram account. Een ander pagina om te checkenen is de pagina "Ik krijg een foutmelding". Als jouw apparaat een bepaalde code weergeeft kan je die terug vinden op deze pagina.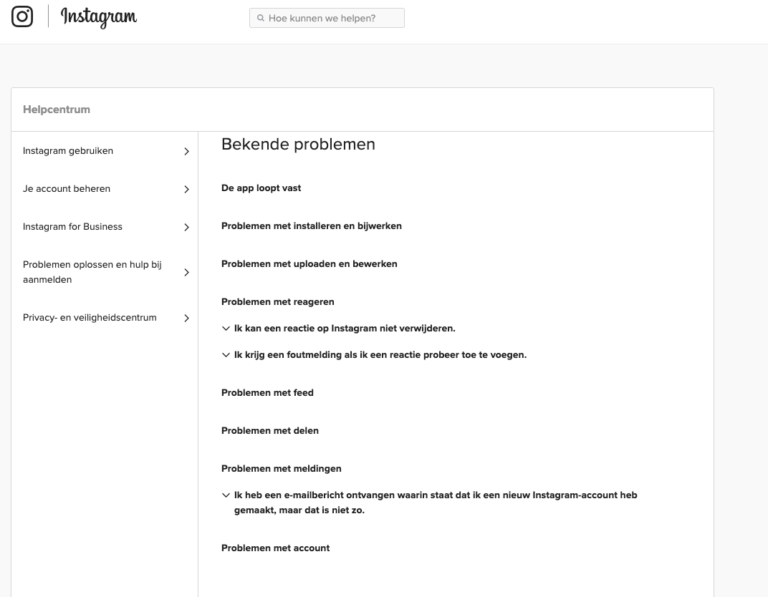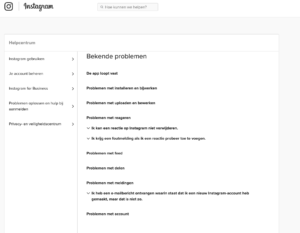 Probeer een onafhankelijke site voor statuscontrole
Het laatste wat je kan proberen. Een ​​van de vele onafhankelijke storing sites te checken. Deze zijn uiteraard gratis en kunnen je jezelf een duidelijk antwoord geven op of het probleem op bij Instagram of aan mijn eigen apparaat heeft geleden. De website die we aanbevelen is uiteraard storingsite.nl Instagram storing.
Deze site geeft vanaf het begin van het eerste uur een actueel beeld van storing op Instagram. Daarnaast staan er opmerkingen van gebruikers die in 2019 problemen hebben met Instagram. Deze site is bezig om eind 2019 begin 2020 via verschillende tech zoals mail, Whatsapp Twitter en pushmeldingen storingen te kunnen melden. Uiteraard over een storing op Facebook, Twitter, Instagram en andere tech-website.
Alsjeblieft! Dit zijn een paar manieren om te controleren of Instagram werkt of niet werkt. Hopelijk worden de problemen waarmee je te maken hebt snel opgelost. Zodra de storing is opgelost kun je weer interessante foto's en video's op Instagram plaatsen.
Is geen van de bovenstaande punten de oplossing?
Dan kun je ervan uitgaan dat er een storing bij Instagram zelf is. In dit geval is het rustig afwachten tot alles weer naar behoren werkt. Meestal is de storing Instagram binnen een uur na de meldingen opgelost. Vanaf dan kun je de geleden wachttijd zo weer inhalen en je gemaakte foto's weer uploaden.
Meld je storing of nieuws gelijk via ons systeem. Je privacy is gewaarborgd! Als je problemen ondervindt bij het plaatsen van jouw foto's en video's op Instagram, is er mogelijk een probleem met de service. Meld dit altijd op Storingsite.nl. Check op deze pagina het laatste nieuws of meldingen over storingen van Instagram, Facebook, Twitter, Nieuws en andere services of websites.
Heb je toch nog vragen of nieuws te melden over de tech bedrijven? Plaats deze vragen dan onder in de reacties en wij nemen dan binnen 24 uur contact met je op. Dit doen we door middel van reactie in de comments of mail.